Drawing up a budget is a continuous, on-going process. It is best to start with a global approximation of costs. Do this before you ask for price tenders. This will allow you to check whether or not you are approaching your project realistically.
Gradually adjust your initial rough estimate as and when more accurate information becomes available; in particular, when price tenders are received and approved.
Is your budget too high? If so, check each individual budgetary post to see where cheaper alternatives may be available or where particular items can be deleted. Never remove anything from the event budget that will reduce the overall quality of your event. As an alternative, consider sponsoring by outside third parties: this is a useful way to increase your available financial resources. A partnership with another company that has the same target groups is another possible solution, which may allow you to share costs.
Pro tip! Use the eventplanner.net event software to set up your event budget and easily monitor it.
Checklist Event Budget
Communication
❐ Website
❐ Printing
❐ Marketing (advertising, promotional material, etc.)
❐ Mobile applications
❐ Social media
❐ Ticketing (fixed cost or commission?)
❐ ...
Location/tent
❐ Hire of function room/hall
❐ Cloakroom
❐ Stage/dance floor
❐ Furnishings, tribune, etc.
❐ Decoration and embellishment
❐ Changing facilities
❐ Direction boards and signposts
❐ Parking costs
❐ Toilets (and their attendants)
❐ Heating/air-conditioning
❐ Cleaning
❐ ...
Catering
❐ Catering
❐ Drink
❐ Crew catering
❐ Cutlery, glassware, crockery, table linen
❐ Bars, buffets, etc.
❐ ...
Activities
❐ Entertainment
❐ Guest speakers
❐ Activities (workshops, team-building, etc.)
❐ Children's entertainment
❐ Music
❐ Copyright
❐ ...
Audio-visual support
❐ Projectors
❐ Plasma and LCD screens
❐ Microphones
❐ Sound systems
❐ Lighting systems
❐ Video-recording and photography
❐ Special effects (fireworks, snow, etc.)
❐ Wifi network
❐ Hybrid events (live streaming, etc)
❐ ...
Personnel
❐ Floor and event manager(s)
❐ Safety coordinator
❐ Hostesses
❐ Parking attendants
❐ Security
❐ First aid team
❐ Stagehands/technical staff
❐ Catering staff (waiters, barmen, etc.)
❐ Cloakroom and toilet attendants
❐ Translators/interpreters
❐ ...
Diverse costs
❐ Postage
❐ Give aways
❐ (VIP) transport
❐ Hotel costs
❐ Permits and insurance
❐ Possible theft and damage
❐ Electricity, water, other utilities
❐ Waste disposal
❐ Logistics
Organisational costs
VAT and taxes
Unforeseen expenditure (allow 10%)
Find more tips on organising events here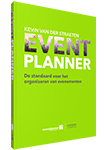 More about this topic and lots of other tips about organising events can be found in the book EVENTS.