Nothing is so annoying for a guest as to stand hungrily before an empty buffet that has been plundered by others or to receive a microscopic piece of meat when you feel that you could eat a horse. But the other extreme is not good either: nobody likes to throw away sackfuls of food after the event is over.
Your caterer should have the necessary experience to avoid either of these scenarios, but the following guidelines may nevertheless come in useful:
Drink
During the first hour of a reception or party, you should count on an average of three drinks per guest. For each further hour, count on an average of two drinks. For an afternoon reception with coffee and tea or for a coffee break during a meeting or seminar, count on an average of one and a half cups per person.
During a dinner guests drink an average of one glass per course. The main course is good for an average of one and a half glasses.
Appetisers and hors d'oeuvres
During the first hour of any function your guests will easily consume three hors d'oeuvres, followed by an average of two more during each subsequent hour. During a dinner event, you should seek to achieve a balance between meat, fish and vegetable appetisers. This also applies to other cocktail snacks served before a meal: for example, you should not offer drumsticks during the aperitif if chicken is also your main course.
Service
Nobody likes to be kept waiting, so you must have enough waiters and service points. For parties, work on a basis of one bar for every 100-150 people and one waiter for every 50 guests. Are you planning to serve drinks from trays? If so, one waiter for every 40 guests will be enough. As far as food is concerned, one buffet for every 50 guests is a good ratio. One waiter per 50 guests should be sufficient for this type of meal, but this figure increases to one waiter per 10 guests for a seated dinner.
Number of guests
Your caterer will provide staff, glassware, cutlery, tables, etc. on the basis of your estimate of the number of guests. Make a clear agreement with the caterer and the venue about the date when the final number of guests must be confirmed. Do this in writing. But be careful: this is the number that will be used to calculate your invoice, even if fewer people turn up than you first thought. For this reason, try to delay your notification until the last possible moment: for preference, something like two days before the event rather than two weeks.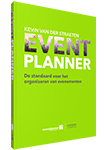 More about this topic and lots of other tips about organising events can be found in the book EVENTS.