You don't choose a (party) caterer haphazardly. Also at an event, the love of the participants goes through the stomach. Catering is therefore very important and must match the objective of your event and the target group. What should you pay attention to?
If you go in search of your own (party) caterer, make sure you visit plenty of other events to see your possible candidates 'in action'. Are his cocktail snacks tasty and original? Is the service friendly and well-dressed? Does the presentation look good? Even if you don't get the chance to watch a caterer at work at a live event, you can always ask to see his own kitchen, where he carries out all his preparations. It is usual for the caterer to cook you a trail meal, so that you know in advance what your guests will be getting on their plates. The cost of this trial meal will usually be deducted from the final price, if the caterer is eventually awarded the event contract.
Check that the caterer works in accordance with the HACCP norms (Hazard Analysis Critical Control Points). This European norm sets down conditions for the storage, transport, preparation and serving of food, and therefore offers you a number of guarantees. Most catering companies will also be able to boast other quality labels. Even so, take no risks where food is concerned: do your homework thoroughly. The last thing you want is for half of your guests to go down with food poisoning! Also ask to see the qualifications of the serving personnel and, if possible, the selection of uniforms from which you can choose.
If the caterer has never worked at your event venue before, it is a good idea to accompany him on a preliminary visit. This allows the caterer to check whether or not the kitchen facilities are sufficient to properly prepare the dishes on your menu. Some caterers have their own mobile kitchen, complete with logistical back-up. Others will have to hire this type of mobile unit. For events with more than 1,000 guests, it is advisable to install more than one kitchen and more than one collection/clearance point, in order to cut down the walking distance for the waiters: you don't want your food to be cold by the time it arrives on the table.
Discuss the routes which the waiters should follow to make the service quick and efficient, and agree where the buffets and distribution points should be located. Take account of the need to re-supply bars and buffets: there is nothing worse than a bar without beer or a buffet without food. Moreover, the re-supplying must be carried out in a manner that does not disturb the guests. This applies equally to the removal of empty bottles and rubbish. People do not like standing at a bar that is full of dirty glasses and empty cigarette packets.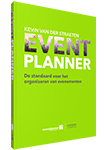 More about this topic and lots of other tips about organising events can be found in the book EVENTS.