You can either opt to organise an event yourself with the help of your colleagues or you can decide to call in an external events agency to do it for you (known as 'outsourcing').
Both choices have advantages and disadvantages:
Advantages of outsourcing an event
Events agencies have wide experience and are aware of all the most recent trends in the sector. An event might either be so large or so delicate that it outstrips your own ability to organise it. Outsourcing means that you no longer have to bear the responsibility for many of the risks involved. Moreover, it is quite possible that your company simply does not possess the necessary in-house knowledge and creativity to create an event of the required quality and standing.
Events agencies have an objective view of your company and are therefore better able to exploit your strong points and minimise your weak ones. Your own staff are more likely to suffer from selective blindness as far as the latter are concerned! In addition, an agency is an ideal sparing partner and sounding board for the exchange and development of new ideas.
Events agencies have an extensive network in the events sector. They know how to find the right people and the right materials, often at much better prices. If you try and do the things for yourself, it is often difficult to see the wood for the trees: there is often a huge difference in price and quality between the different suppliers.
If you rely on your own staff to organise an event, they are usually required to do this in addition to their normal responsibilities. You must therefore take account of the fact that they will have less time to perform their normal daily duties. Outsourcing means that your internal resources remain available for your current projects and core tasks. Working with a (large) events agency also means that there is continuity throughout the preparations phase (for example, in the event of sickness).
TIP! By engaging the services of a professional events agency in good time, you can avoid many costly organisational blunders.
Disadvantages of outsourcing your event
The event agency does not (yet) know your company. This means that they do not initially know what is possible and what is not. To begin with, they do not even know your wishes or anything about the style/culture of your organisation. A good briefing is therefore essential. The best idea is to try and develop a long-term relationship with the same events agency, so that these disadvantages can quickly be eliminated.
Notwithstanding the effective approach of most events agencies, you need to take account of the additional cost of outsourcing. On the positive side, this at least means that you clearly know in advance the total price for your full event package. With internally organised events, the hidden costs are often far greater than you first imagined.
Weigh up the pros and cons of outsourcing for each individual event that you are planning to organise. Take due account of the available know-how, the required creativity, the timing, the budget and the risks. In general, it is probably wiser to put complex events in the hands of an experienced events partner. In many cases, the best results are achieved through a combination of your own company-specific knowledge with the expertise of a professional agency.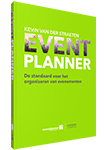 More about this topic and lots of other tips about organising events can be found in the book EVENTS.