In most cases, your guests will be free to dress as they please. In most cases but not always. Sometimes, a particular type of clothing will contribute to the atmosphere of your event or may be necessary because of specific (weather) conditions.
For this reason, it is always advisable to refer to the dress code in your invitation. This puts your guests at their ease: they know what you expect and it eliminates the risk that they will arrive inappropriately dressed.
But remember never to make unreasonable demands on your guests: there is no point in inviting your factory workers to an event, but then insisting on full evening dress. This simple creates a threshold which increases the likelihood of a non-registration or a no-show.
Some of the most common dress codes include:
Evening dress - The classic dress code for formal occasions. This means a suit or dinner jacket for the men, and a long dress or two-piece for the ladies.
Black tie - This gives women the choice between a cocktail dress and a long evening dress, whereas the men are obliged to wear a black dinner jacket with a white shirt.
White tie or gala - A super-formal dress code, which is only used on very exclusive or ceremonial occasions. The ladies will wear a long gala dress with long gloves, while the gentleman will sport a dinner jacket with a white shirt and a white bow tie.
Tuxedo - The name says it all. Very similar to black tie. The men must wear dinner jackets and the women a stylish evening dress.
Jacket and tie – One of the most frequently used dress codes. The men dress in lounge suits (or, as the name suggests, in jacket and tie) and the women dress in a two-piece or an elegant but sober ensemble.
Cocktail - A fashionable dress code that requires fashionable clothes. Women will opt for a frivolous designer outfit, exuding class and femininity, whereas the men will go for a dark-coloured suit.
Festive dress - Both men and women wear less formal clothing, but without becoming too casual; a 'well-groomed' look is still required.
Casual or informal - A more or less wear-what-you-like occasion. This helps to put your guests at their ease, but may detract from the standing of your event.
Themed dress - Themed dress can be fun (carnival, fancy dress, etc.) and has also undergone something of a revival in recent years in the nightlife scene: white nights, bikini parties, disco outfits, etc.
Special dress - rainwear, warm clothing, a change of clothes, etc.
More and more organisers are moving away from traditional dress codes and are opting instead for 'smart casual', 'a touch of red', etc. This is a fun idea, but make sure that your guests properly understand what you intend.
TIP! Do you want to work with a theme for your dress code? If so, ask the serving staff, the dj and even the artists to stick as far as possible to the same theme. Remember that some of your guests will either forget or not be willing to dress up according to your theme. Make sure that you have plenty of accessories associated with the theme ( for example, party hats or feather boas) so that these people to do not feel left out or ruin the atmosphere.
TIP! Nothing is quite so embarrassing for a guest as a tear in a gala dress or a button that comes loose. Check that the receptionists or the toilet attendants have a sewing kit available, so that essential minor repairs can be carried out on the spot. A supply of basic cosmetics in the toilets hairspray, deodorant, etc. is also much appreciated.
More tips on planning your event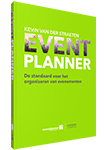 More about this topic and lots of other tips about organising events can be found in the book EVENTS.