Musication
Kerkveldweg 63

,

9320

Nieuwerkerken

, Belgium
Musication specializes in (international corporate) events. With more than 30 years of experience as a resident in the most important discotheques in Belgium, and more than 3,000 unique parties on the counter, and a music library containing 100 years of music history, we specialize in anticipation. We adapt to the location, the theme, the script, the audience, and of course your wishes, in order to achieve an excellent result that your guests will remember for a long time to come. As soon as music becomes important to you, choose Musication. Passion, professionalism, commitment and experience make the difference.
Who
The new generation of DJs in the 21st century are artists, often specialized in one particular music style. They are often completely convinced that the audience should adapt to their musical preferences.

Walter Sibret, a professional 'old skool' DJ since 1986, commented that more than ever events need a DJ who can fully support their project and adapt to the wishes and / or expectations of the public. Musication was born.

Musication's musical knowledge includes more than a century of music in all possible different styles. So, whatever happens, Musication will immediately adapt to the situation. Musication has now organized more than 3,000 successful parties all over Europe; for a great diversity of guests. We also know a whole network of DJs and Artists. If we can't do it, there is certainly someone who can !!
What
Musication provide musical advice. Musication selects appropriate music for your events, galas, shows, etc. Musication helps you, the event organizer, to tell your unique story, to support the desired atmosphere as much as possible, and above all to create a lasting experience for your participants. Of course we are also available for private parties.
We believe that music plays an important role in the (subconscious) feeling of your participants. The carefully selected music can immediately enhance this feeling. That is why you should pay due attention to music from the start of your event, and not, as is often the case, just towards the end.
We take into account the location, the setting, the decoration, the storyline with its different chapters, other artists, the theme, the desired feeling, the intended purpose, and build the music so that it fits the moment perfectly. In addition, Musication secures your event. Suppose an artist does not show up, Musication can handle this without any problems. We can therefore advise you to book Musication from the start of your event. It gives you a comfortable and assured feeling that Musication is there to get rid of your musical problems.
We can also prepare a number of things in our studio. This mainly happens for specific themes, presentations, seminars, product launches, (fashion) shows and galas.
You can count on Musica-on as musical director. Intros, Outros, Walking tunes for winners on their way to the podium ... We've got it all.
And of course cool dynamic All-Round parties, for young and old, our trademark.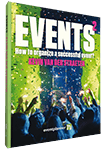 Activities Musication
Activity regions:

Antwerpen | Oost-Vlaanderen | Belgium
Activities: