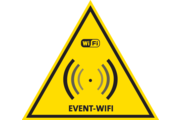 Event-Wifi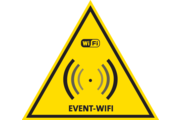 Asterweg 19

,

1031 HL

Amsterdam

, Netherlands
Event Wifi is guaranteed good (wireless) internet for events. We prepare our projects well, build quickly and neatly and deliver everything in working order. During your event we provide a service technician or remote management.
Event Wifi
Event Engineers has a lot of experience in providing temporary WiFi facilities for indoor and outdoor events. For large groups of (simultaneous) users, we supply a centrally managed WiFi system in combination with on-site / remote management. In addition to the WiFi manager, the base station contains a firewall / router, so that only one internet connection (IP address) is required for the entire system. The WiFi system takes into account other WiFi networks in the area and allows users to 'roam' (walking around without reconnecting to the network). A maximum number of users are allowed per channel to guarantee the quality (bandwidth) of all WiFi connections. Even if many people use the internet at the same time. See our website for references.
Afterwards, a report is provided on the use of the WiFi network (bandwidth used, total number of users and number of users per day).
Wifi Check
It is possible that the event location already offers Wi-Fi, but how reliable is that and how heavy is that charged by the users of smartphones and tablets at the event? Difficult questions, especially with the continuously advancing technology. Event Engineers have developed the Wifi Check for this. The Wi-Fi wishes of your event and the available ICT infrastructure are mapped out and an assessment is then made to what extent they match each other. We provide appropriate advice to ensure that the internet works properly, without paying for services that are not needed.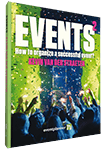 Activities Event-Wifi
Activity regions:

Gelderland | Noord-Holland | Overijssel | Utrecht | Zuid-Holland | Netherlands
Activities: